Here's how my truck is equipped for carrying my camper
2006 GMC 2500HD: Short bed, extended cab, 6.0L V8 gas engine, automatic transmission
Torklift Frame mounted tiedowns, Fastgun Turnbuckles and StableLoad (Quick Disconnect model) suspension "enhancers"
Hellroaring Technologies Battery Isolator: Allows the truck to charge the camper batteries, but keeps the camper from discharging the truck battery
Bilstein Heavy Duty Shocks (Blue & Yellow version): I added them after 3 years with air bags only. They made a major difference in "rig bouncing"
265/75R16 tires (vs. 245/75R16 stock tires): Higher weight rating than stock tires.
Front spare tire carrier: My camper overhangs the rear bumper of the truck. Consequently, there is no way to lower the spare tire with the camper loaded on the truck. Even though I'd never had a flat, I decided this wasn't a good situation. So, before I went to Alaska, I had a spare carrier mounted on the front of my truck Here are the links to what I bought on Amazon: Receiver, Carrier, Cover


---
These are some very useful add-ons I made to the camper itself
Solar Panel
I didn't want to carry a generator and I hate listening to them. So, one of my first camper add-ons was a Kyocera KC-125TM 125 watt solar panel and Blue Sky SB2000E controller. I typically move sites each day, resulting in my truck charging my camper batteries some. However, if I stay in one location for a while that has partial sun, I never run low on battery power with this panel. It's worked out well and I'm very happy I did it. I did the installation myself in early 2006 and the parts were around $900 (including shipping). Solar panel prices have dropped since then This setup should be around $100 to $150 cheaper now. Note that I added a switch to the controller to disconnect the solar panel from the controller input. This way I can make sure there is no voltage from the controller to my camper electrical system when I'm working on it.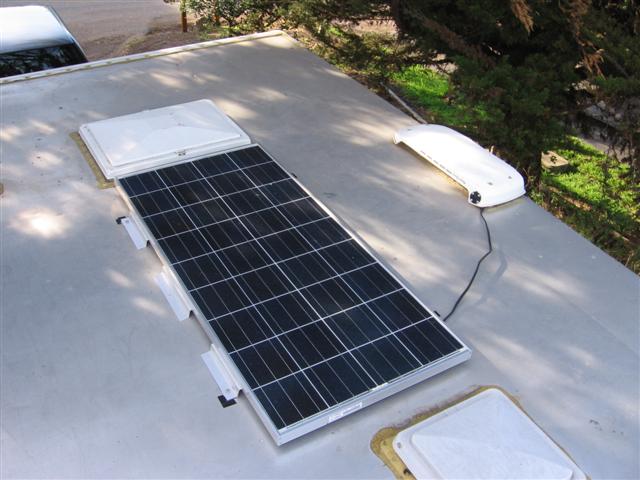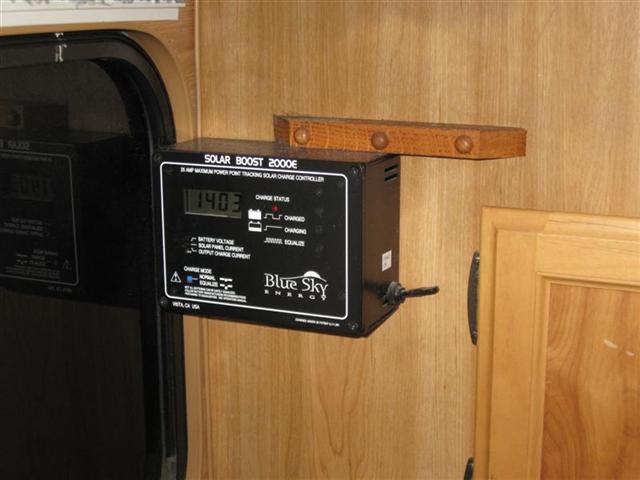 iPod & Bose SoundDock
I'm a musician and I love listening to music. I have 4800+ songs on my Apple iPod. I bought a Bose SoundDock for the iPod and it makes a very nice little music system for my camper. The SoundDock I bought is the portable variety, that runs on a rechargeable battery. That way I can move it around to whereever I want in my camper or even take it outside and set it on a table. Has a remote, so I don't even have to get up to change a song or the volume! Let's face it - it sure is a long way from one spot to another in my camper. :)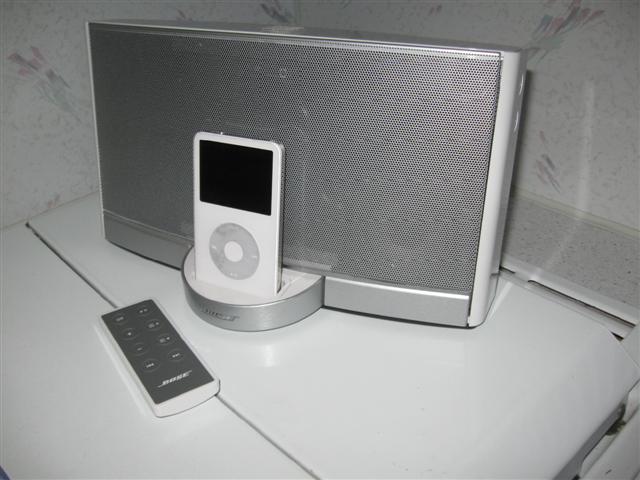 Storage Baskets and Bins
For full-time traveling, there was limited storage in my camper for clothes. Based on some ideas from an RVing forum on the Net, I came up with this basket idea. It's worked out great. Got the baskets at WalMart for very little. I have them on both sides of my bed. The side not shown only has 2 baskets due to something else on the wall. The plastic stacking bins also are very handy. Just have them on one side of the bed. On the other side are my guitar and mandolin cases.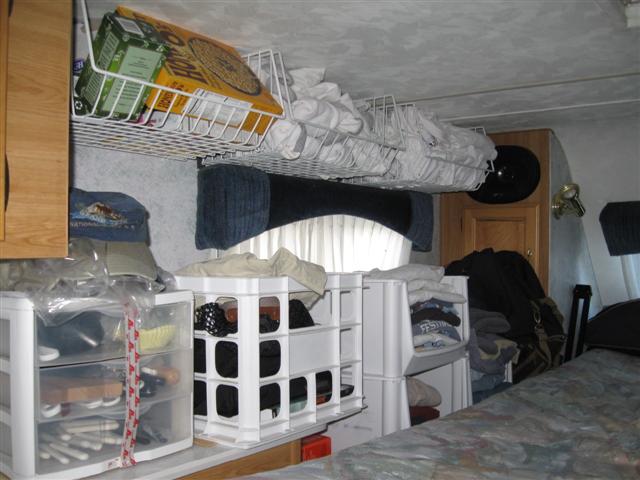 SPOT Tracking Device
I travel by myself and don't have a set route or reservations for campgrounds. Plus, I'm usually at Forest Service campgrounds, frequently out in the boonies. To let my 2 children know exactly where I am when I reach a new campsite, I use the nifty SPOT device. It's a combination of a GPS receiver and a satellite transmitter. When I press the "OK" button, it sends a message to a satellite with my ID number and GPS location. The satellite then sends a message to the company ground station. I use their website to set up who I want to get an email when the message is received. My 2 children get an email with a Google map link to my exact location with minutes! There is also a "911" button for use in true emergencies. This causes the nearest rescue team (police, etc.) to come to your aid. I have never used that button and hope not to. But, it's a good thing to have. The unit is reasonably priced and the yearly fee is around $100. Well worth it, in my opinion. And, you don't have to be in cell phone range to use it.
If I don't want anyone to know where I'm camped .... I don't push the button. Hey, my kids don't have to know every stinkin' place I go. :).
Note in the picture below that I have put clear tape over the "HELP" and "911" buttons to prevent accidental pressing. I think the newer SPOT units have a moveable "flap" over these buttons.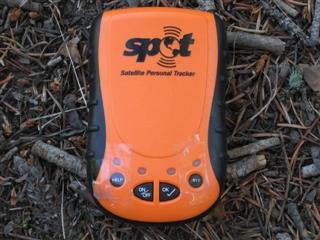 Inverter
The lights in a camper run off of the 12 vdc battery system. However, for charging various things (laptop computer, camera, Bose SoundDock, etc.), 110 vac (the same as a wall plug at home) is needed. This is what an inverter does. It converts 12 vdc to 110 vac. It doesn't have to be very big capacity one to charge the things I use. I bought a 400 watt one, which is really more than I need. My laptop takes the most power and it's 75 watts. I mounted the inverter very close to the main 12 vdc wiring in the camper. This way there is minimal voltage drop when it is operating. Plugging it into the cigarette lighter type 12 vdc outlet in the camper results in too much voltage drop. In the picture below, the 110 vac outlets are on the right side of the unit and not visible.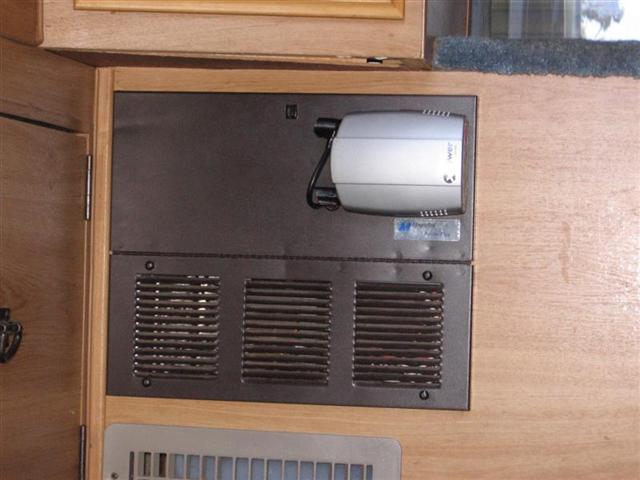 Second Battery & Switch
My camper has a compartment for a group 27 size battery. I didn't want to worry about not having enough battery power. So, I mounted a second group 27 battery in my truck bed, ahead of the driver's side wheelwell (right picture). A strap keeps the battery from moving around too much. Under the sink I mounted a battery switch that allows selecting either battery separately, both or none (no DC power to camper for maintenance). There is wiring from this switch that runs outside the camper to connect to the second battery. The wiring has a heavy duty connector (Anderson Powerpole available from Powerwerx) to allow disconnecting from the battery. The left picture shows the battery on the ground for testing after wiring installation. When the camper is on the truck, the second battery is right by the panel you see on the side of the camper. The battery can actually be accessed from inside the camper with the panel open. Handy for adding water.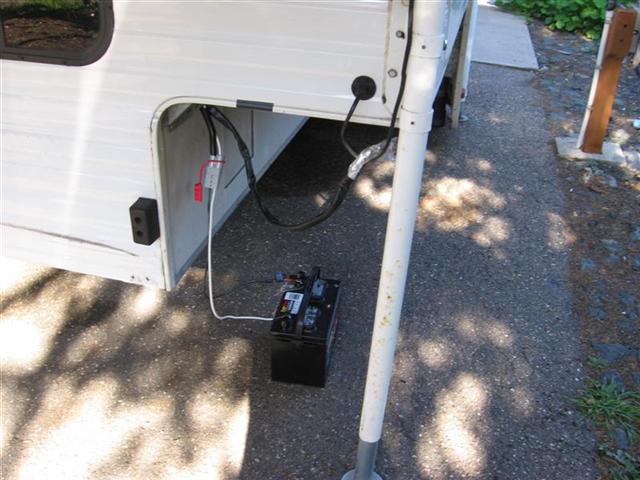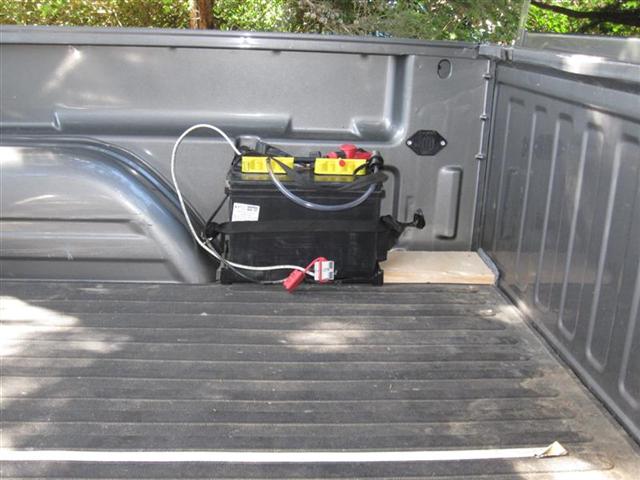 LED Interior Lights
NOTE: September 2011: For the 3 lights I use the most, I've noticed individual LEDs "out". One board has almost all of them out. This is about 3 years after I installed them (but I think I noticed some failures a year ago). So, these specific products may not be the best choice. I'm going to try some other brand, as I still think LEDs are the way to go.
The normal incandescent light bulbs in the interior lights draw quite a bit of power. Around 1.2 amps each. Some fixtures have 2 lights. These lights and my laptop computer are usually what use the most battery power. I changed the bulbs in all the fixtures in the lower section of the camper (but not the bed area or bathroom) to LED (light emitting diode) devices. There is a circuit board with 36 LEDs that is wired to a base that inserts into the normal bulb socket in the light fixture. The intensity is a little less than the normal bulb. However, I can turn on 2 of the LED "bulbs" and still have less than 25% of the electric current a normal bulb uses. So, 8 to 9 LED "bulbs" draw about what one incandescent does! I have noticed a significant change in how deeply my batteries are discharged since switching to these LEDs. They aren't cheap, though. I got the "warm white" JC-36-AB-WW model.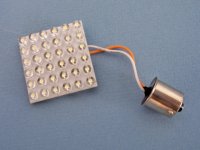 Laptop Internet Card
I wouldn't enjoy my RV ramblin' near as much without an Internet connection. No email or web browsing? That would be a bummer! One way is to stop in town and find a WiFi hotspot (coffee shop, library, etc.). Sometimes that's easy, sometimes not. My Verizon Mobile Broadband connection has worked great for me. It uses cell phone towers for an Internet connection. You need a special card for your laptop that plugs into a USB port or card slot. Each year I get better coverage and higher speeds. I travel in the Western U.S. and almost any town of 2,000 or more has a connection available. In the smaller towns, it's usually the slower type. Because it uses cell phone towers, you don't even have to be in a town for a connection. If you're in a campground near a highway that has cell phone coverage, you might be able to get a connection. I've had connections in remote campgrounds where I didn't think there was a chance. In 2009, I added an external antenna that has improved my connection capability considerably.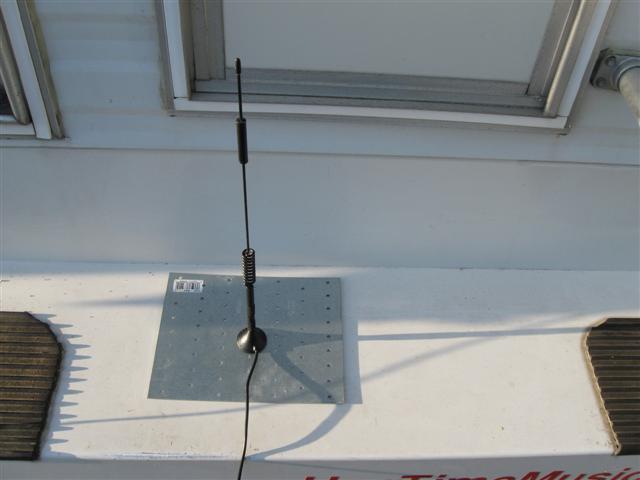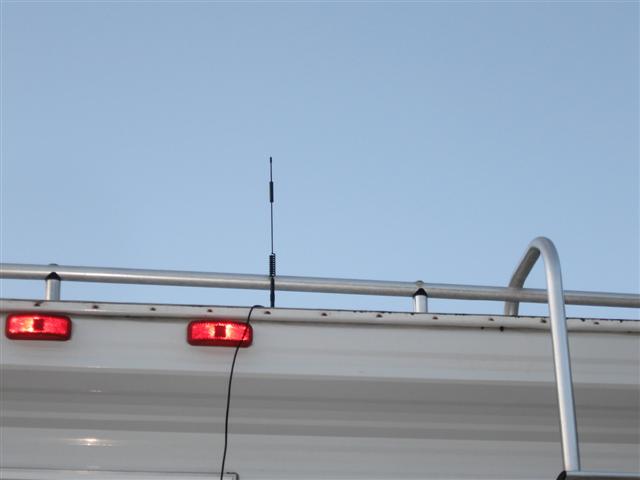 Battery Watering System
My latest addition is a battery watering system. Batteries should have their water level checked monthly or so to improve performance and extend their life. If it is hard to remove the caps and check the water level, then one (that includes me) is less likely to do it. Based on some recommendations I saw on an RVing forum, I'm trying this system. I installed these on both of my batteries. You remove the caps from the battery and then install these yellow Qwik-Fill "watering manifolds". A bulb type pump is attached to the tubing you see coming out of the battery compartment. You pump distilled water from a jug into the battery until the pump bulb feels "firm". What's "firm"? Guess I'll find out...........OK, I found out that what I call "firm" on one battery resulted in an overfill and fluid on the top of the case. Guess I need to stop before "firm" is reached on that one. Maybe just 3 or 4 squeezes a month is enough.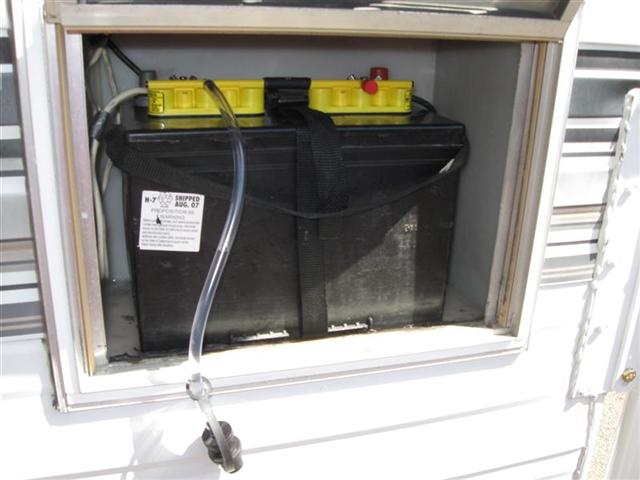 LED Reading Light
With the new interior LED lights, my old eyes were having a hard time when reading at my dinette seat. I usually sit back against the wall cushion and put my feet out in the aisle for reading. I tried more than one type of small LED light to spotlight the book. Didn't find anything I liked. I think I've finally found something that will work out well. It mounts to the underside of the cabinet. Best of all, the light bar rotates to allow pointing the beam anywhere along my lap or legs. This means I can point it at my book or newspaper for maximum light. Also has 2 intensity settings. It's battery powered, so don't know yet how long they will last (specs say up to 60 hours). Got it here.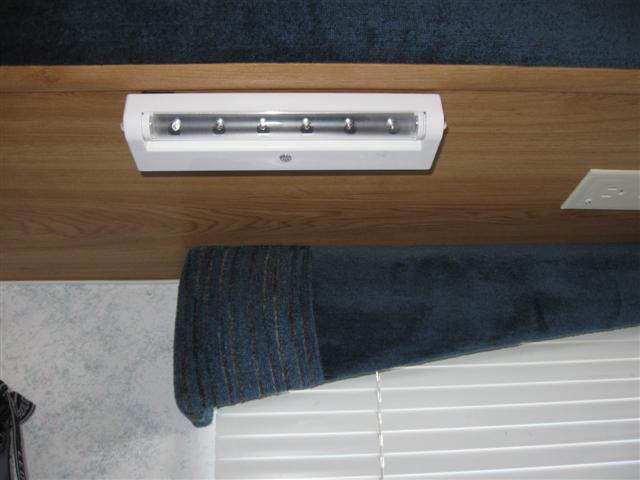 ---